Aerial platform truck JIB forSte 61TJJ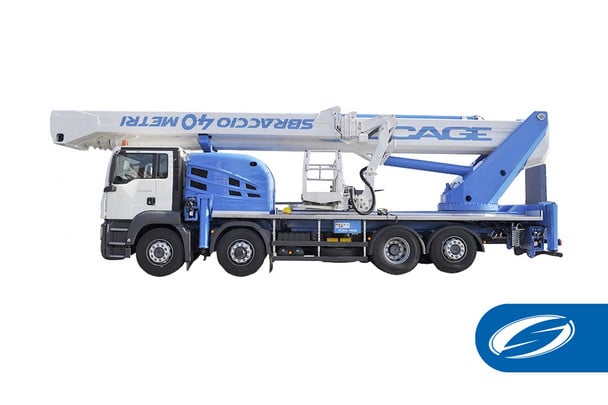 High performance double JIB
Maximum load capacity 600 kg
Multi-zone stabilization system
61TJJ is a telescopic aerial platform with a jib that can be installed on trucks with p.t.t. minimum from 32 tons. This model is provided with a secondary boom that allows the equipment to perform maneuvers that would not be possible with a basket with only one JIB
It reaches a working height of 61m and a horizontal reach of 40m on 32-ton trucks, in addition has a large load capacity of 600 kg (6 operators + material)
This model is equipped as standard, on the platform controls, with an LCD screen (7 ″) that allows the operator to control different information such as: 2D work area, limiter status, stabilizers status, etc.
The 61TJJ is equipped as standard with a multi-zone stabilization system that allows the operator to choose between different options depending on the  available space for the truck; In addition, the rear stabilizing crossmembers of the new 61TJJ consist of 2 hydraulic extensions that increase the stabilization area and, therefore, the maximum performance of the equipment.
The emergency controls are remotely controlled by radio control to allow the operator to position himself according to the best point of visibility of the entire assembly during the maneuver.
The rotation of the aerial part is 700º, this feature considerably increasing the productivity of the truck by avoiding downtime due to repositioning of the platform. The 61TJJ can be equipped with a boom mounted hydraulic winch, with a capacity of 900/1500 kg, to be used as a crane after removing the aluminum basket.. 
The dimension of the aluminum basket is 2300 x 900 x h 1100 mm, expanding hydraulically to 3600 mm to increase the workspace. The rotation of the basket is 360º (180 ° left + 180 right) allowing great versatility of positioning for the job

TECHNICAL FEATURES
Extendable aluminum basket with dimensions 2300/3600 x900x1100 mm
SOCAGE convertible basket possibility (Eternit)
Basket rotation 360°
Rotation turret 700°
 2 ° Jib 180 ° manual rotation
Possibility of winch on removable JIB
Automatic stabilization
Partially stabilized work areas
Auto lock
Basket control station with console on Socage design including joystick and 7 "LCD display with real-time information
Intercom with headphones for basket-ground communication
Main and auxiliary motor start / stop control from the basket
Multifunction radio remote control for emergency control of the aerial part from the ground and stabilization
Electric hour counter
PTO automatic cut-off
N ° 2 fixed roto-lamp on the vehicle cabin
Socket  230V / 400V
Heat exchanger on the hydraulic system
2 folding sides, 2 fixed (h 150 mm)
4 plates to stand to the ground (700 x 700 x 50 mm)
Anti-corrosion treatment on unpainted components
Overhead painting: white RAL 9016
Frame and hydraulic cylinders painting: blue RAL 5015

SAFETY DEVICES
Emergency and stop button

Cross check of open stabilizers

Anemometer

Load limiter in the basket

Moment limiter with double safety and control of correct operation

Multi axial device for visual control of frame stabilization

Emergency descent with electric pump (in the absence of the auxiliary motor)

Rotation brake of the turret with automatic insertion

Hydraulic system with differentiated filtering with high efficiency filters both on the delivery lines and on the return lines

Multifunction radio control for emergency control

Automatism for rotation lock with extension of the stabilizers on one side only

Chassis flatness sensor

Flanged block valves
Our story began 40 years ago