Elevator bucket truck ForSte 37DJ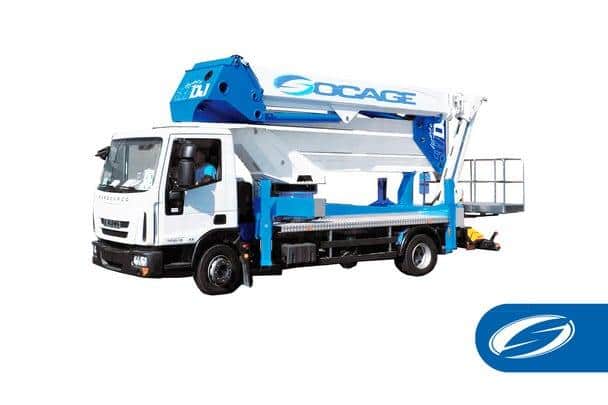 High performance and mobility
Boom whit articolated JIB
Robustness with great mobility
Multiple stabilization possibilities
The forSte 37DJ is a double articulated pantograph platform with hydraulic JIB, that can be mounted on 2 axle trucks of 12T.
It reaches a working height of 37,30m and a horizontal reach of 23m, in addition has a large load capacity of 300 kg (3 operators + material)
It is the highest model of a revolutionary Socage intermediate range, due to its performance it resembles the high-rise truck platforms or the tallest self-propelled platforms and due to its functionality, mobility and simplicity of use it is similar to truck platforms <de 3,500kg, it even makes it possible to rent without a driver.
The compact dimensions of the forSte 37DJ, only 8,300 mm long by 3,580 mm wide, guarantee great mobility. A high-rise platform ideal for jobs in industries and in urban centers with high traffic and difficult access, where other platforms with the same features cannot move because their circulation is prohibited or even require a special license
Designed for demanding professionals, it incorporates the most advanced components and technological advances, achieving a high performance platform with quality finishes.
Easy to use and reliable, its robust structural design achieves a highly functional and stable aerial part. The double articulation together with the hydraulic jib allows great positioning versatility and a greater capacity to overcome obstacles at height than other telescopic platforms of similar height.
SOCAGE stabilization HE+HE
It incorporates the SOCAGE HE + HE stabilization system, a multi-zone stabilization system with hydraulically extendable vertical stabilizers that automatically calculates the safe working area depending on the opening of the stabilizers and allows the operator to take advantage of the space available for stabilization. The stabilizers have an extra long path that facilitates stabilization and allows to overcome the greatest unevenness that are found daily in urban areas especially

TECHNICAL FEATURES
Aluminum basket: dimensions 2000 x 800 x 1100 mm
Hydraulic rotation basket 90° + 90°
Rotation turret 700°
Multi-zone stabilization (differentiated areas)
Double work area with stabilization in shape
Pipes and cables installed inside the boom
Hydraulic opening of the crossmember
Vertical stabilizers with extra stroke
Engine start / stop control from the basket
Digital hour counter
4 plates to stand to the ground
Socket 230v
Magnetic roto-lamp on the vehicle cabin
Powder coated cataphoresis treatment
Tool trunk
Under-run
Hydraulic stabilizers (HE + HE)
Aluminium side-boards

SAFETY DEVICES
Emergency and stop button
Verificación cruzada de estabilizadores abiertosi
Multi axial device for visual control of frame stabilization
Intelligent cabin anti-collision sensor
Load limiter in the basket
Moment limiting device with double security
Emergency manual pump
Chassis flatness sensor
Flanged block valves
Differentiated filtering hydraulic system with high efficiency filters both on the delivery lines and on the return lines
Automatic leveling of the basket
PTO automatic cut-off
Warning horn from the basket

(*) Do you want to install the platform on another model? Contact us.
CUSTOMIZE YOUR AERIAL PLATFORM TRUCK
Our story began 40 years ago