Small bucket truck
 

16A SPEED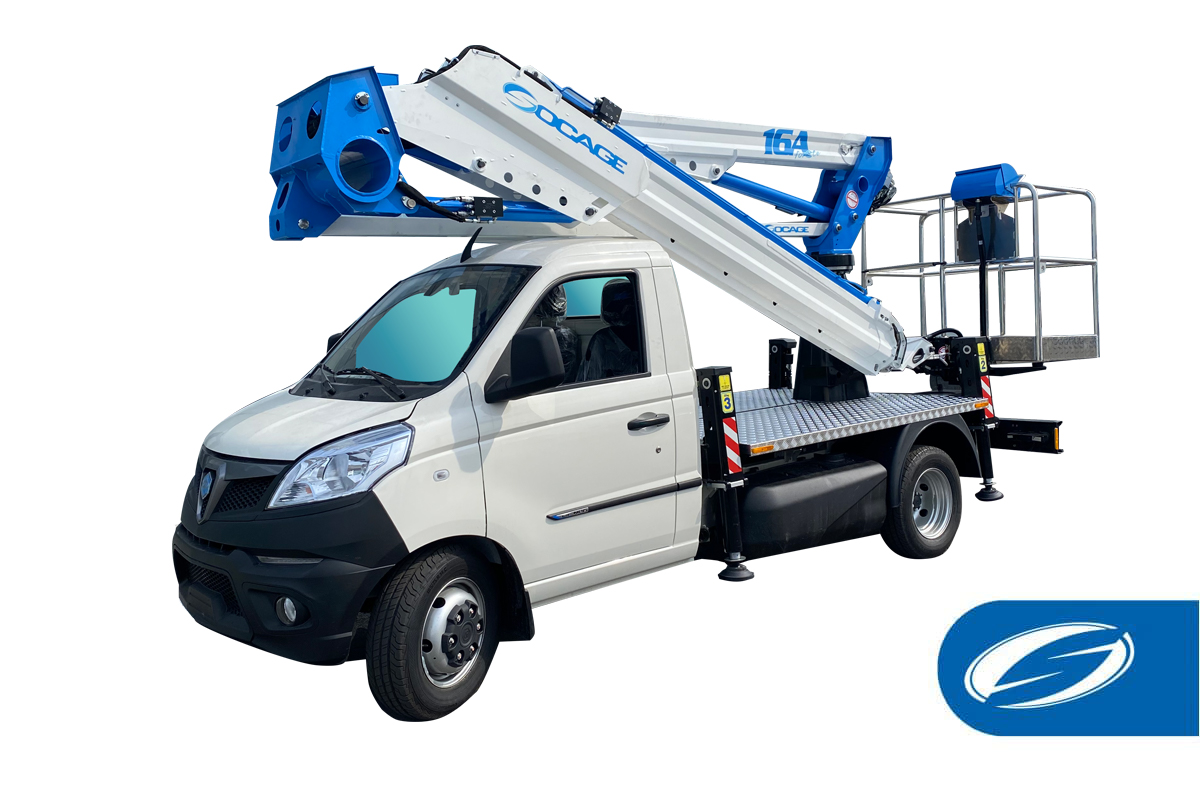 Simplicity and reliability
The SOCAGE ForSte 16A SPEED is an articulated telescopic boom mounted on a frame vehicles of less than 3500kg, ideal for compact assemblies in vehicles with a short wheelbase.
Capable to reach a working height of 15,90 m and horizontal reach of 7,50 / 9,60 m, with a load capacity of 230 kg in the basket. (2 operators + material). with 90º rotation of the basket to the left. + 90º to the right.
The use of heavy duty Steel (SPP) profiles in the manufacture of the boom ensures a high quality lightweight platform with a robust strcuture. An easy-to-use and reliable platform that guarantees great mobility and excellent urban behavior.
Front fixing of the basket
It incorporates the front fixing of the basket, an innovative feature in small bucket trucks that facilitates the approach with greater precision and avoid the risk of collision with roofs and structures at height or some maneuvers in pruning work. Moreover, it facilitates the possible exits in height of the operator with greater security to hook up to the mandatory lifeline.
Its compact dimensions facilitates work in places with difficult access and limited movement spaces, ideal for urban centers and historic centers where many vehicles cannot access.
The new hydraulic system together with the Socage control console allows for smoother and more proportional movements with greater control by the operator, even with simultaneous maneuvers.
The stabilization system may oscillate depending on the vehicle on which the platform will be mounted. In any case, if possible, priority is given to fixed vertical stabilization, it brings greater simplicity and versatility of use, as well as less space occupation, an important aspect in some urban applications.
The reduced weight of the equipment allows a great customization of it by the client, adapting it to their needs. The Forste 16A is the ideal platform to meet the different needs of each sector, from driverless rental to any maintenance, construction or industry work.
There are several customization options, for example: power options such as the lithium hybrid system or electric pumps, the option for greater operator assistance such as the height selector or the SOCAGE CONNECT connection and remote assistance system, as well as numerous options for lighting, equipment and security for desired customization.

AUTO - STABILIZATION
Innovative standard solution in truck-mounted platforms, it brings great advantages and increases safety, facilitates the correct use of the stabilization maneuver.
With a single button, even from the basket, it allows you to obtain a stabilization OK to work in a safe, simple and fast way.
The extra stroke of the Socage vertical stabilizers perfectly integrates the SPEED automatic stabilization guaranteeing a safe stabilization with greater ability to overcome irregularities.

TECHNICAL FEATURES
Hydraulic rotation  basket 90º + 90º
Rotation turret 700º
Aluminum basket: dimensions 1200 x 700 x 1100 mm
Pipes and cables installed inside the arm
Automatic closing
Automatic SPEED stabilization fron the basket and from the ground
H + H vertical outriggers
Proportional electro-hydraulic controls with speed regulation of all movements
Electronic safe system CAN BUS
4 plates to stand on the ground
socket 230V and 12V in the basket
Possibility of simultaneos movements
Atuomatic regulation of engine revolutions
Cataphoresis treatment with powder coating
Aerial part centering light on the basket
Automatic motor speed adjustment
Boom and column painting: white RAL 9016
Frame painting: black RAL 9005
Head and hydraulic cylinders painting: blue RAL 5015

SAFETY DEVICES
Socage Security System
Unintentional maneuvering protection bar
Controls protection of the basket
Circuit braker with differential protection on the 230V line
Safety bypass for operator rescue
Automatic stabilization
Moment limiter with double security
Self leveling system for the basket
Inclinometer
Flanged block valves
Emergency button
Emergency manual hand pump
Possibility emrgency remote rescue
Automatic PTO deactivation
Sensor anti crash smart cab
electrical hour counter light closed outriggers
Maintenance light

(*) Do you want to install the platform on another model? Contact us.
CUSTOMIZE YOUR SMALL BUCKET TRUCK
Our story began 40 years ago