Bucket lift for pickup truck

forSte 14A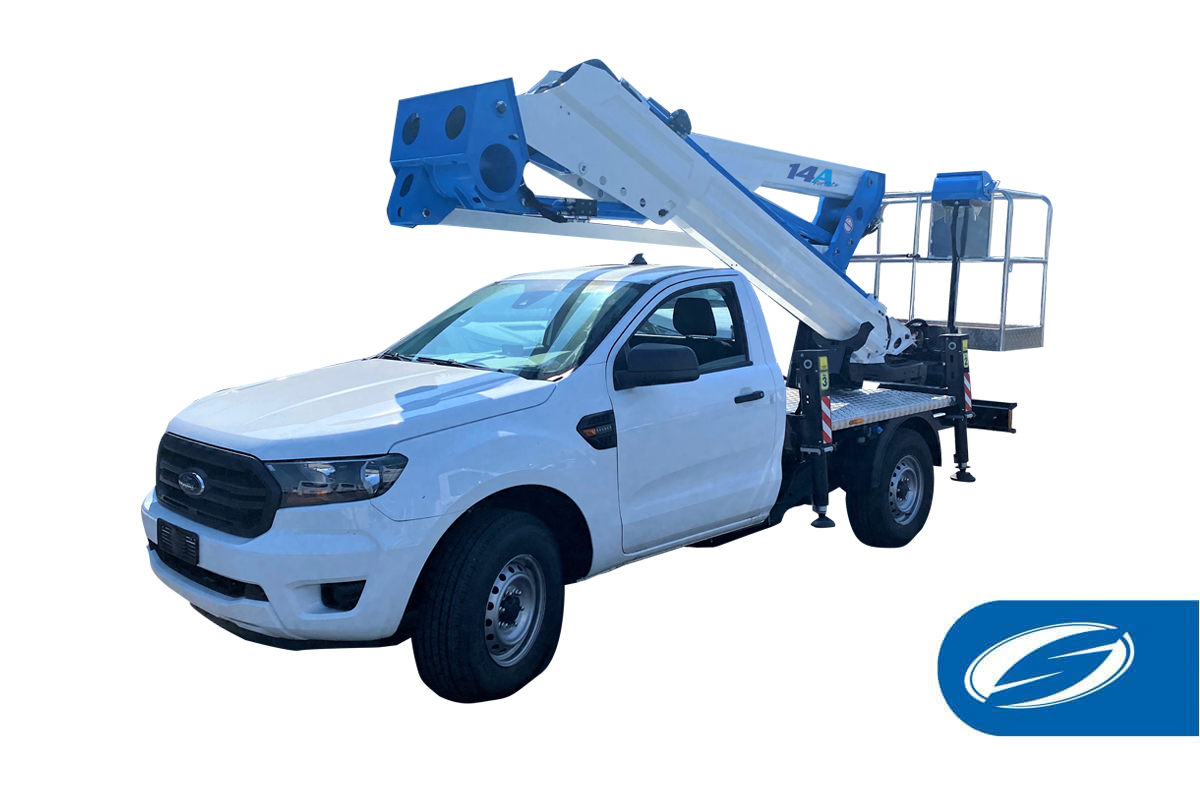 Many customization possibilities
Off-road performance and finish
Unrestricted free work area
The bucket lift for pickup truck forSte 14A is an articulated platform designed and optimized to be mounted both 4×2 and 4×4.
Since its creation, it has become the European benchmark in the pickup market and the best-selling 4×4 aerial platform model in Europe, the authentic 4×4 platform.
This model reaches a working height of 13.40 m with a horizontal reach of 7,10 m, in addition has a large load capacity of up to 230 kg (2 operators + material), without limitations in the entire job area.
Compact size, easy to use and reliable.
Its compact dimensions, without rear overhang, the studied load distribution and the 4×4 design guarantee excellent performance, for work at height in places with difficult access, where the usual platforms cannot access.
Comfort and mobility with bucket lift for pickup truck
The comfort and great mobility of the pick-up, 4×2 or 4×4, provide great functionality to the platform, making it an excellent solution both for outside and inside urban environments.
The electro-hydraulic controls allow great precision and simplicity in movements. All the components are protected inside the boom, including the extension cylinder, to avoid damage from impacts or external elements.
The reduced weight of the set, the large free space in the box and the possibility of increasing the GVW of the pick up to 3500kg (*), allows offering high-quality optional equipment that together with the available payload allows satisfying the needs of each client .
The versatility and possibility of customization of the 14A on pick-up trucks have made it one of the vehicle platforms with the greatest presence in the fleets of the most important maintenance companies, especially in the energy and telecommunications sectors, among others.
Available to be mounted on both 4×2 and 4×4 models of Toyota Hilux, Isuzu D-Max and Ford Ranger pickups.
(*) The possibility of increasing the PMA depends on the pick-up model and the country of approval.

TECHNICAL FEATURES
Rotation turret 700º
Pipes and cables installed inside the boom
Stabilizers A+A
Proportional electro-hydraulic controls with speed regulation of all movements
Comando di avviamento/arresto del motore dal cestello
Possibility of simultaneous operation
230V and 12V socket on the basket
Cataphoresis treatment with powder coatinge
4 plates to stand to the ground
Boom and column painting: white RAL 9016
Frame painting: black RAL 9005
Cylinder head and hydraulic cylinders painting: blue RAL 5015

SAFETY DEVICES
Unintentional maneuvering protection bar
Basket controls protection
Magnetothermic with 230V line differential protection
Automatic stabilization from basket
Inclinometer
Flanged block valves
Emergency and stop button
Emergency manual pump
PTO with save changes
Digital hour meter in the cabin
Cabin warning light of closed stabilizers
Maintenance light (Service)
CUSTOMIZE BUCKET LIFT FOR PICKUP TRUCK
Our story began 40 years ago