Spider boom lift forSte 15S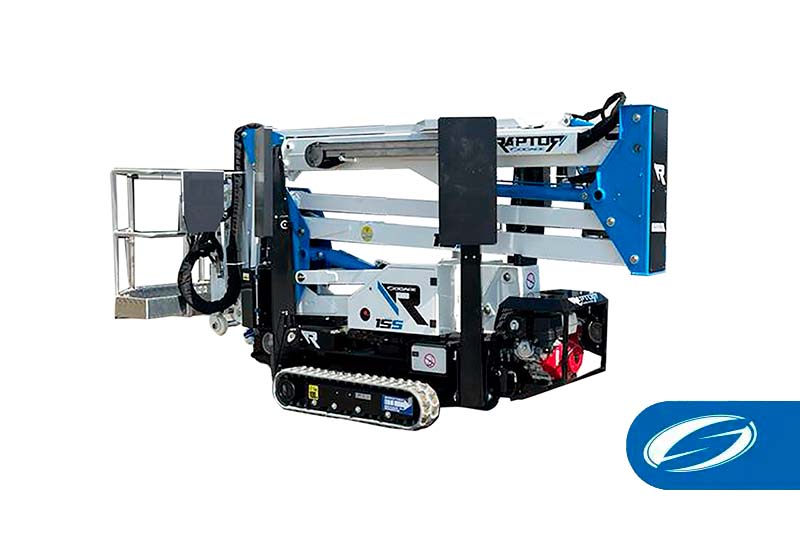 Perfect tracked spider lift for renting
Greater strength and stability
Simplicity and reliability
15S is a spider boom lift with a maximum working height of 15 m, and a maximum lateral reach of 7 m. It is capable of lifting 225 kg (2 operators + material) without limitations in the entire work area; it includes double articulated aerial part with hydraulic jib for greater versatility.
This aerial platform is equipped as standard with fully hydraulic controls for the movements of the aerial part and with radio remote, for greater comfort and operator safety in controlling the movement, stabilization and speed of the Honda 13CV engine as standard. Possibility of mounting a diesel engine.
Sustainable platform with 0% emissions, bio-energetic, in addition to the gasoline engine, I which incorporates a 230V electric motor that allows working without emissions, essential in certain closed spaces such as churches, airports or factories.
The most compact in aerial platforms
The spider boom lift 15S has very reduced weight and dimensions, only 78 cm wide in the translation phase (with the basket removed), it is equipped with extendable track systems for greater stability in the translation of the machine.
The 350º rotation of the aerial part and the hydraulic jib together with the double articulated arm allows a large work area. All this makes it one of the lifting baskets with the best reduced dimensions / performance ratio on the market.

TECHNICAL FEATURES
White non-marking tracks
Aluminum basket: dimensions 1400 x 700 x 1100 mm
Narrow hydraulically expandable undercarriage (780 mm/1100 mm)
Electric hour counter
Gasoline engine Honda 13 cv
Socket 230V in the basket
Multifunction radio control for proportional travel and stabilization maneuvers
Hydraulic controls for maneuvers from the basket
Rotation turret 350°
Boom and pantograph transmissions painting: white RAL 9016
Painting of pantograph heads and hydraulic cylinders: blue RAL 5015

SAFETY DEVICES
Engine start / stop control from the basket
Multi-axial device for visual control of frame stabilization
Auxiliary electric pump 230V / 50Hz single-phase with battery charger
Differentiated filtering hydraulic system with high efficiency filters both on the delivery lines and on the return lines
Manual emergency pump
Chassis flatness sensor
Block valves flanged on the cylinders
CUSTOMIZE YOUR TRACKED SPIDER BOOM LIFT
Our story began 40 years ago