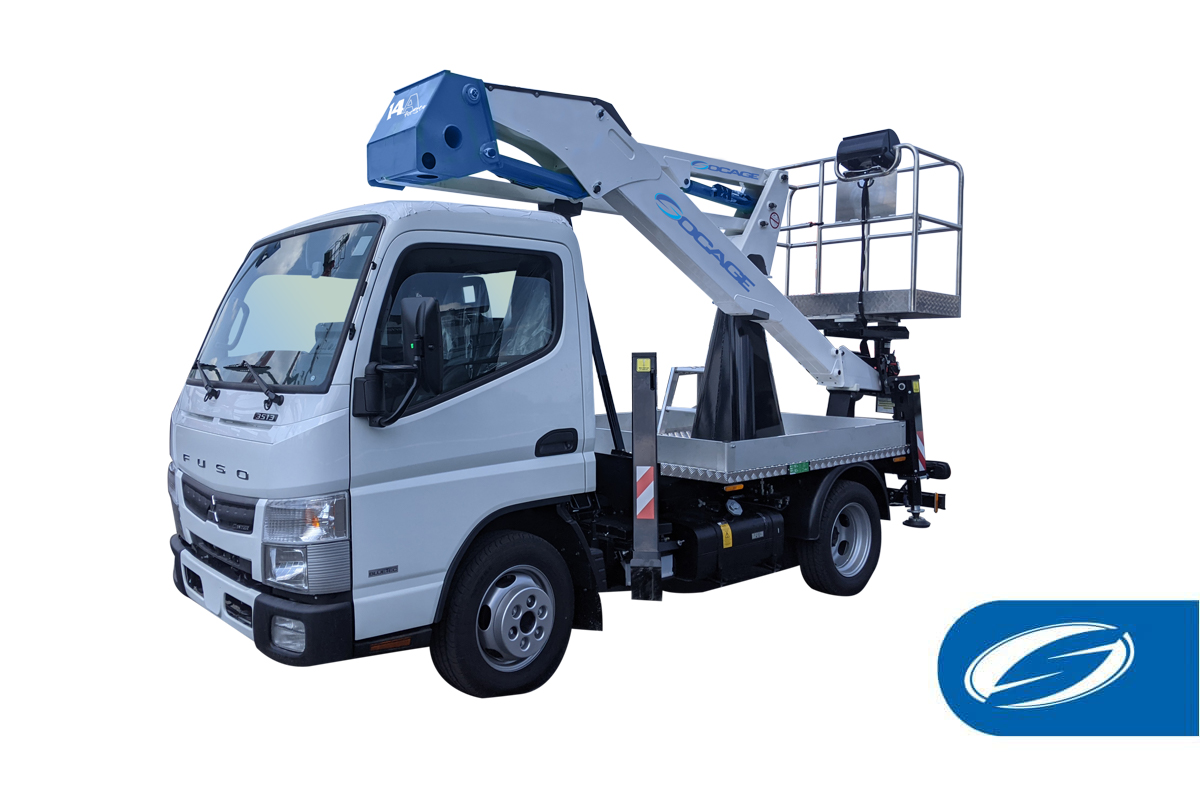 BASKET
Aluminum / Fiberglass
Polyethylene




Simplicity and reliability
It stands out especially for being an extremely small bucket truck. Enabling assembly in different vehicles with reduced dimensions and wheelbase with a PMA less than 3500kg.
The SOCAGE forSte A314 City is the urban version of the successful ForSte A314 articulated platform. Capable to reach a working height of 13.70 m (*)  and horizontal reach of 7.20 m, with a load capacity of 250 kg in the aluminum basket. (2 operators + material).
A reliable and easy-to-use platform that guarantees great mobility and excellent behavior in the city. Its reduced dimensions allow it to work in places with difficult access and arduous movement, ideal for urban centers and historical centers where most vehicles cannot access.
Simplicity and versatility
The stabilization system may vary depending on the vehicle where the platform is mounted. In any case, if possible, the priority should be given to fixed vertical stabilization, because it provides greater simplicity and versatility of use. As well as less space occupation, an aspect highly valued at work in the urban zone.
The electro-hydraulic controls allow great precision and simplicity in movements. All the components are protected inside the boom, including the extension cylinder, to avoid damage from impacts or external elements.
The reduced weight of the set allows us to offer high quality optional equipment to satisfy the demand of all our customers. (*)
The urban character together with the hybridization of the model allow sustainable applications with the environment for a work without emissions in the center of cities.
 The versatility and great mobility of the forSte 14A make it an ideal tool for all types of professionals who carry out their work in urban centers: such as pruning, maintenance of lighting, cleaning, and telecommunications among others.
(*) It depends on the vehicle where the assembly is carried out.

TECHNICAL FEATURES
Hydraulic rotation  basket 90º + 90º
Rotation turret 700º
Aluminum basket: dimensions 1400 x 700 x 1100 mm
Pipes and cables installed inside the arm
H + H stabilizers (*)
Proportional electro-hydraulic controls with speed regulation of all movements
Engine start / stop control from the basket
Possibility of simultaneous operation
230V and 12V socket on the basket
Cataphoresis treatment with powder coating
4 ground support plates
Boom and column painting: white RAL 9016
Frame painting: black RAL 9005
Head and hydraulic cylinders painting: blue RAL 5015
(*)  It depends on the vehicle where the assembly is carried out.

SAFETY DEVICES
Unintentional maneuvering protection bar
Basket controls protection
Magnetothermic with differential protection on the 230V line
Automatic leveling of the basket
Inclinometer
Flanged block valves
Emergency and stop button
Manual emergency pump
PTO with gearbox saver
Digital hour meter in the cabin
Cab stabilizers closed warning light

(*) Do you want to install the platform on another model? Contact us.
CUSTOMIZE YOUR SMALL BUCKET TRUCK
Our story began 40 years ago