Van bucket truck forSte 12VT Tronquée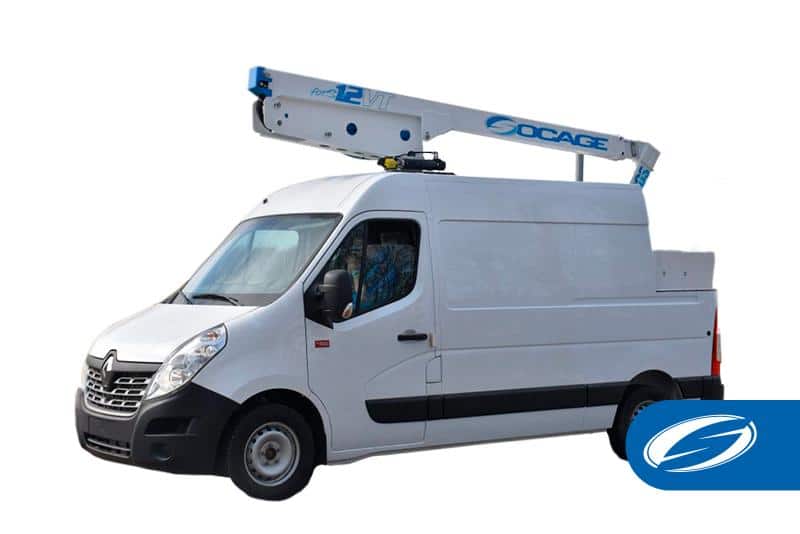 Large urban mobility basket van
No stabilizers with 120 kg
The forSte 12VT tronqueé is a telescopic van bucket truck with a fixed JIB. It reaches a working height of 12 m (*), it stands out especially for its horizontal reach of 7.5 m that allows a large working area without limitation, with the full capacity of the basket at maximum reach.
It can be mounted in 2 versions, with and without stabilizers. Without stabilizers with a single-seat basket and 120kg capacity (1 operator + material) and with two stabilizers for the two-seater basket with a load capacity of 200 Kg on the basket (2 operators + material).
Reduced length in the van bucket truck
In the tronqueé finish, the van is cut at the rear to allow the positioning of the fixed boom according to the van's original dimensions, avoiding the rear mounting platform of the forSte 12VT. It reduces the total length and improves the equipment mobility
The studied structural design of the heavy duty steel boom together with the optimized mounting on the van guarantees high performance and excellent finishes. Ease of use and reliability together with the low van mounting weight are other important features of the forSte12VT Tronquée.
The basket controls are ergonomic and proportional for great precision, the operator has a great control  to choose at any time the speed of the movements, even in simultaneous maneuvers. Emergency controls are located in the cab, to clear the space and improve visibility.
Design created for the customer
The Tronquée was Designed for the customer, all components, tubes, cables and extension cylinders are located inside the boom for added protection and to avoid damage or breakdown.
The van bucket truck foreSte 12VT tronquée has been designed to occupy the minimum space in the loading zone and take advantage of the available capacity of the van after the tronquée transformation It also has extras that allow the equipment to be perfectly adjusted to the different needs of each client.
The foreSte 12VT tronquée combines the important features of the aerial platform with the versatility and mobility of the van, making it the ideal solution for professionals in maintenance, electrical, public lighting, artistic lighting, signage, pruning, cleaning or telecommunications. Especially useful for quick interventions in urban areas or areas with difficult access, as well as in jobs that involve long journeys where the mobility of the van is clearly advantageous. 
(*) depends on the truck where the assembly will be done

TECHNICAL FEATURES
Rotation turret  400º
Pipes and cables installed inside the boom
Final fixed JIB
Transformation of a tronqueé van
Without Stabilizers
Single-seater basket in fiberglass with total opening
Proportional electro-hydraulic controls with speed regulation of all movements
Possibility of simultaneous operation
Stopping / starting the engine from the basket
Socket 230v and 12v in the basket
Digital hour meter in the cabin
CAN BUS electronic management system
Cataphoresis

SAFETY DEVICES
Unintentional maneuvering control E.C.S (Easy Control Security)
Protection bar for involuntary maneuvers
Magnetothermic with 230V line differential protection
Automatic stabilization from the basket
Inclinometer
 Flanged block valves
Emergency and stop button
Emergency manual pump
12V emergency electric pump
Possibility of remote emergency operation
Automatic PTO disengagement
Maintenance light (Service)
CUSTOMIZE YOUR VAN BUCKET TRUCK
Our story began 40 years ago