Bucket pick up platform forSte 16A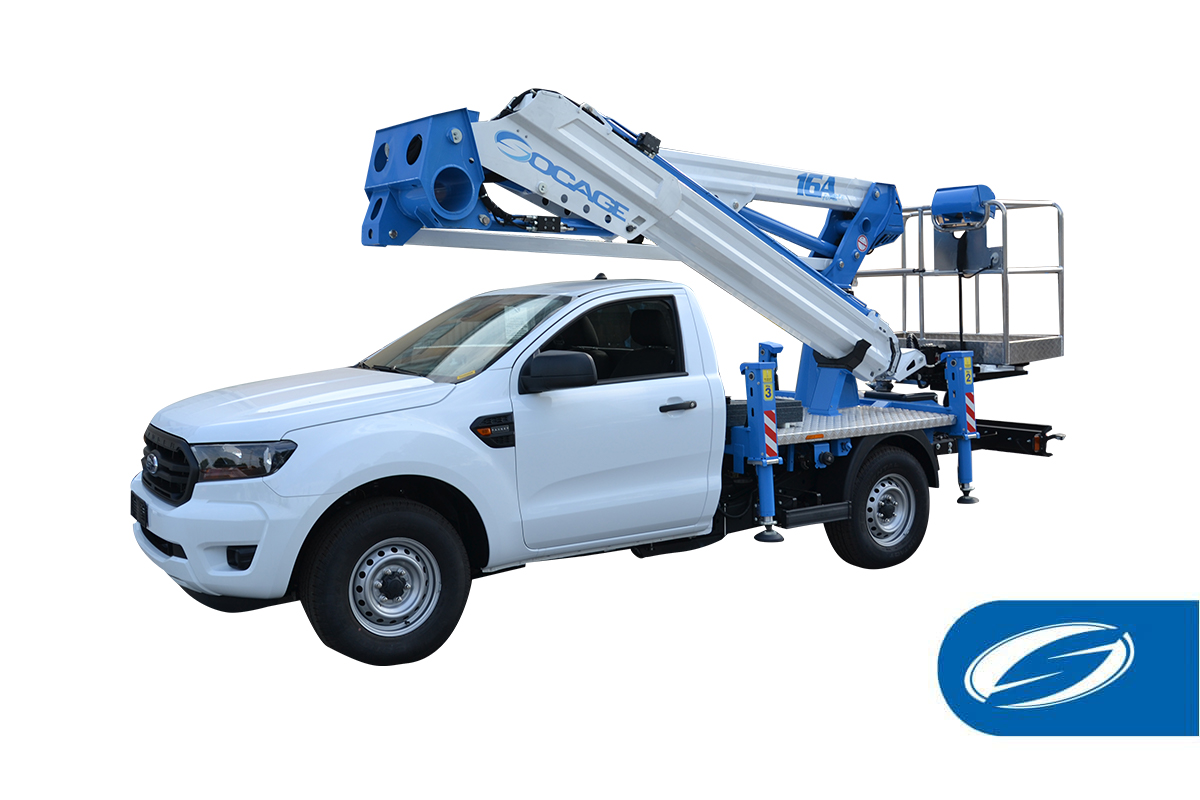 High performance in an off-road pick up
Free weight for equipment
Front attachment of the basket
The SOCAGE forSte 16A is an innovative telescopic articulated platform model mounted on bucket pick up vehicles, both 4×2 and 4×4.
This platform reaches a working height of 15,50 m with a horizontal reach of 7,30 m, in addition has a large load capacity of up to 250 kg. (2 operators + material), with basket rotation 90º Left + 90º Right.
Heavy duty steel (SPP) in the manufacture of the lift boom guarantees a high-quality light platform with a robust structure ideal to be mounted in a pick-up vehicle
Front attachment of the basket
The articulating boom lift of the forSte 16A model provides a greater ability to overcome obstacles at height and an excellent load distribution that guarantee good off-road behavior.
It incorporates the front attachment of the basket, an innovative feature on truck platforms that facilitates the approach with greater precision and without danger of collision. In addition, it facilitates the possible exits in height of the operator with greater security to hook to the mandatory lifeline.
Simultaneous maneuver in bucket pick up
The new hydraulic installation and the Socage control console allow smoother and more proportional movements with greater control by the operator. Even with simultaneous maneuvers.
The comfort and great mobility of the pick-up, hand in hand with the compact dimensions of the forSte 16A. Allow this set greater urban mobility compared to other platforms mounted on industrial vehicles. Excellent maneuverability in confined spaces and difficult access.
The reduced weight of the set, the large free space in the box and the possibility of increasing the GVW of the pick up to 3500kg (*), allow a great customization of the equipment by the client.
Assembly available in different brands of pickup both 4×2 and 4×4, Toyota Hilux, Isuzu D-Max and Ford Ranger.
(*) The possibility of increasing the GVW depends on the pick-up model and the country of approval

TECHNICAL FEATURES
Hydraulic rotation basket 90° + 90°
Rotation turret 700°
Front fixing of the basket
Pipes and cables installed inside the boom
Stabilizers A+A
Electro-hydraulic controls in proportion with speed regulation of all movements
Possibility of simultaneous operation
Signal to center the aerial part on the basket
Socket 230v and 12v in the basket
CAN BUS electronic management system
Cataphoresis
4 plates to stand to the ground

SAFETY DEVICES
Unintentional maneuvering control E.C.S (Easy Control Security)
Protection bar for involuntary maneuvers
Basket controls protection
Magnetothermic with 230V line differential protection
Safety bypass for operator recovery
Moment limiting device with double security
Automatic leveling from the basket
Inclinometer
Flanged block valves
Emergency and stop button
Emergency manual pump
Possibility of remote emergency operation
PTO with save changes
Boom / cabin anti-collision device
Digital hour meter in the cabin
Cabin warning light of closed stabilizers
Maintenance light (Service)
CUSTOMIZE  YOUR 4×4 BUCKET PICK UP
Our story began 40 years ago