Bucket truck forSte 14T Speed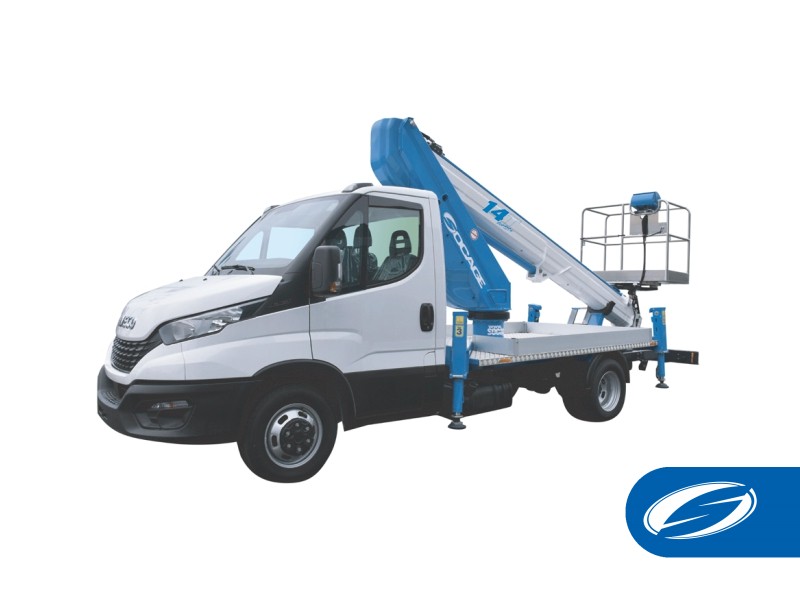 OUTRIGGERS
H+H / Area without stabilization










The ideal urban solution for all the professsionals of the market
Simplicity and reliability
The SOCAGE forSte 14T SPEED is a telescopic truck-mounted platform with automatic stabilization as standard. It can provide up to 14.10 m high and 9 m of outreach with a basket payload of 230 kg.
The combination of high performance and small dimensions, together with automatic vertical stabilization, make the forSte 14A SPEED the ideal urban solution for all the professionals of the market.
SOCAGE's advanced standard automatic stabilization system, SPEED H+H, together with the extra travel of the Socage vertical stabilizers also make the Socage forSte 14T SPEED stand out for its productivity and as one of the easiest platforms on the market to stabilize. It even allows working without outriggers on the 30° of the rear working sector. (only for the configuration Iveco daily witch aluminium basket with a basket payload of 230kg).
The SPEED automatic stabilization allows stabilization from the basket and guarantees safe and easy stabilization with greater capacity to overcome slopes without exceeding the vehicle dimensions. It is also fitted with automatic closing, even from the basket.
The forSte 14T SPEED takes advantage of the evolution of components to offer a user-friendly and reliable platform that increases safety, information and assistance to the operator.
The new electro-hydraulic installation, with the Socage control console, allows smoother and more proportional movements with greater operator control, even with simultaneous maneuvers.
The reduced weight of the assembly allows a great customization of the equipment by the customer.

AUTO - STABILIZATION
Innovative standard solution in truck-mounted platforms, it brings great advantages and increases safety, facilitates the correct use of the stabilization maneuver.
With a single button, even from the basket, it allows you to obtain a stabilization OK to work in a safe, simple and fast way.
The extra stroke of the Socage vertical stabilizers perfectly integrates the SPEED automatic stabilization guaranteeing a safe stabilization with greater ability to overcome irregularities.

TECHNICAL FEATURES
Aluminium basket: 1400 x 700 x 1100
Hydraulic basket rotation 90 + 90
Rotation turret 700°
Pipes and hoses inside the booms
Automatic closing
Automatic Stabilization from the basket and from the ground
H+H vertical outriggers
Proportional electrohydraulic controls with speed regulation of the speed of all movements
Electronic safe system CAN BUS
4 plates to stand on the ground
Socket 230v and 12v in the basket
Possibility of simultaneous movements
Automatic regulation of engine revolutions
Cataphoresis treatment witch powder coating
Aerial part centering light on the basket
Automatic motor speed adjustment

SAFETY DEVICES
Socage Security System
Unintentional maneuvering protection bar
Controls protection of the basket
Circuit braker with differential protection on the 230V line
Safety bypass for operator rescue
Automatic stabilization
Moment limiting device with double security
Self levelling system for the basket
Inclinometer
Flanged block valves
Emergency button
Emergency manual hand pump
Possibility emergency remote rescue
Automatic PTO deactivation
Sensor anti-crash smart cab
Electrical hour counter light closed outriggers
Maintenance light

(*) Do you want to install the platform on another model? Contact us.
Our story began 40 years ago