Telescopic boom lift ForSte 16T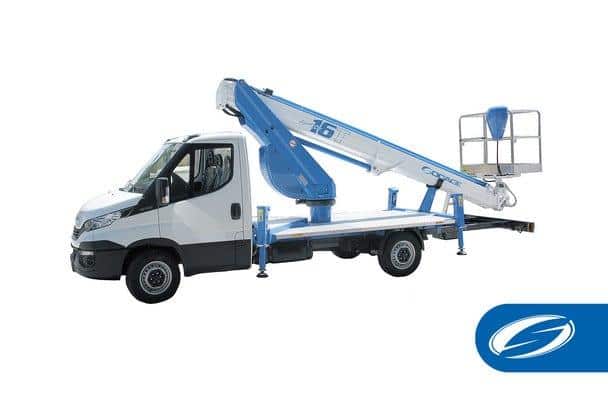 BASKET
Aluminum/ Fiberglass
Polyethylene




High performance and customization
Free weight for equipment
The SOCAGE forSte 16T is a Telescopic boom lift platform,with a lateral reach of 10.30m, reaches a working height of 15.80m with a large load capacity of 225 kg in the basket.
It stands out especially for the combination of excellent performance, low weight and fixed vertical stabilization SOCAGE H + H.
SOCAGE H + H stabilization provides the equipment with great simplicity and versatility of use, facilitating the stabilization maneuver.
The longest path of the SOCAGE vertical stabilizers allows safe and easy stabilization, greater ability to overcome slopes and less space occupied by the vehicle, making it easier to work without damaging the stabilization surface.
Safety, operator assistance
The telescopic boom lift platform forSte 16T use of component evolution and technological advancements to offer an easy-to-use and reliable platform that increases safety and facilitates information to the operator.
It incorporates the new hydraulic installation that with the Socage control console allows smoother and more proportional movements for greater control by the operator, even with simultaneous maneuvers.
Low weight
The reduced weight of the assembly allows a great customization of the equipment by the customer. All this makes the Socage 16T boom lift platform the ideal equipment to cover the different needs of each sector, from driverless rental to any maintenance, construction or industry job.
There are multiple customization options, for example: power options such as the lithium hybrid system or electric pumps, options for operator assistance such as the height selector or the SOCAGE CONNECT remote connection and assistance system, as well as numerous lighting, equipment and security options for the desired customization.

TECHNICAL FEATURES
Hydraulic rotation basket 90° + 90°
Rotation turret 700°
Pipes and cables installed inside the boom

 

Fixed vertical stabilization, H+H
Vertical stabilizers with extra stroke
Electro-hydraulic controls in proportion with speed regulation of all movements
Possibility of simultaneous operation
Signal to center the aerial part on the basket
Socket 230v and 12v in the basket
Automatic regulation of engine revolutions
CAN BUS electronic management system
Cataphoresis
4 plates to stand to the ground

SAFETY DEVICES
Unintentional maneuvering control E.C.S (Easy Control Security)
Protection bar for involuntary maneuvers
Basket controls protection
Magnetothermic with 230V line differential protection
Safety bypass for operator recovery
Moment limiting device with double security

Self levelling system of the basket

Inclinometer
Flanged block valves
Emergency and stop button
Emergency manual pump
Possibility of remote emergency operation

Automatic PTO deactivation

Boom / cabin anti-collision device
Digital hour meter in the cabin
Cabin warning light of closed stabilizers
Maintenance light (Service)

CUSTOMIZE YOUR TELESCOPIC BOOM LIFT 
Our story began 40 years ago