The SOCAGE forSte 14T SPEED is a telescopic truck-mounted platform with automatic stabilization as standard. Due to its dimensions, it is also an ideal platform for electrical work, and in general for urban solution. It can provide uo to 14.10m and a lateral reach of 9 m, with a load capacity of 230 kg on the basket.
For its part, it has the Socage series automatic Speed ​​stabilization, which together with the extra travel of the vertical stabilizers; make this platform increase its productivity and work performance. One of the features that make it stand out is the possibility of working without outriggers in the 30º of the rear cone.
Vertical stabilizers to optimize space
Along with its excellent features and small dimensions, the automatic vertical stabilization stands out. Which allows the platform to be easily used in urban environments where optimizing mobility and work space are key to increasing the productivity.
The automatic stabilization of SPEED allows quick stabilization both from the basket and from the chassis, being a safe, simple and fast stabilization, which even allows the automatic closing of the aerial part. In addition, this type of system greatly facilitates stabilization on slopes.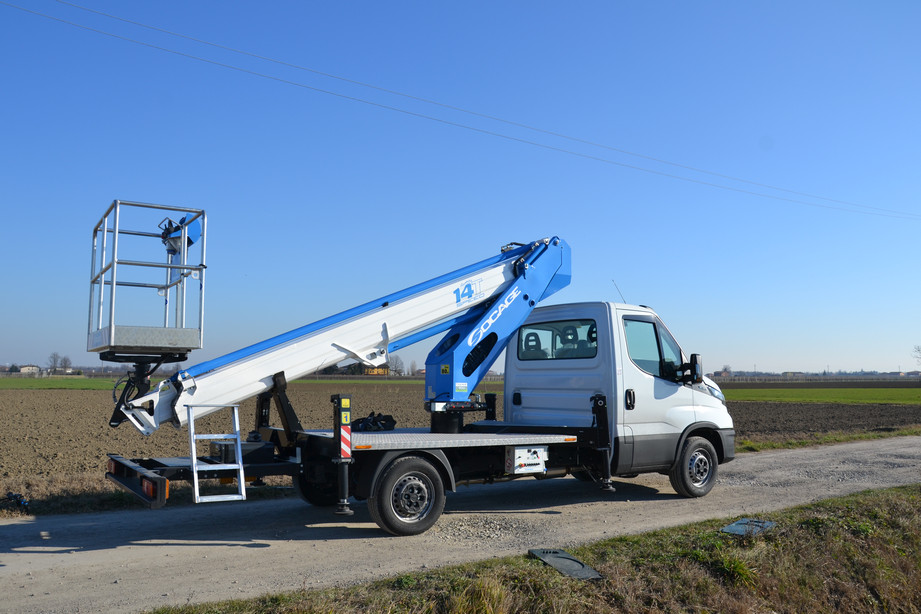 Simple, smooth and proportional controls.
The electro-hydraulic installation together with the Socage control system allows the operator to have total control over the movements; these being smooth and proportional, even allowing simultaneous maneuvers.
In conclusion, it is a platform designed for urban solution and professional sector, ideal for electrical work, among others. The reduced weight of the assembly also allows a great customization of the equipment, also allowing the homologation for three seats in the cabin.