The new 27D SPEED model is the result of innovation and development by Socage, to create a unique, easy to use and safe bucket truck. It is a model that reaches an incredible height of 27.20m on a 3,500kg vehicle.
Its features include a lateral reach of 12.00m with a load capacity of 230kg or 300kg, optionally.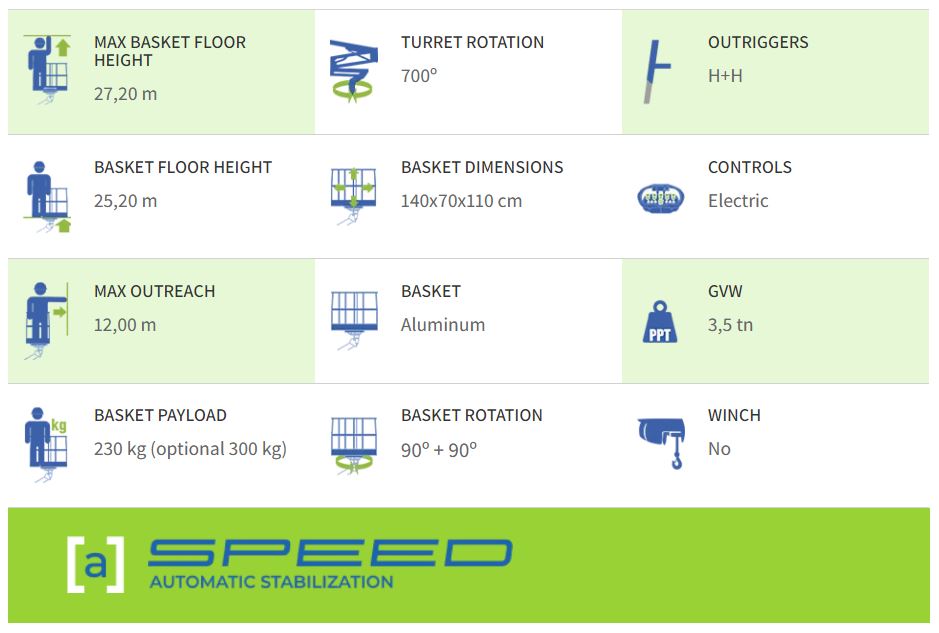 SPEED system, automatic stabilization as standard.
Always looking for maximum productivity and performance on our platforms, the 27D SPEED has the SPEED H + H finish, which incorporates automatic stabilization as standard.
Thanks to this automatic stabilization, we achieve a very fast, very safe and easy to use stabilization. In addition, it can be stabilized from the basket and allows the automatic closing of the aerial part.
What is SPEED? It is an intelligent, multi-zone automatic stabilization system that enables different stabilization possibilities, depending on the terrain and the space we have in each situation, even on slopes.
Fluency and precision
The new control console is very easy to use, and allows very smooth and proportional movements, giving absolute control to the operator, even at times when simultaneous maneuvers must be performed.
Thanks to its high working height combined with a large lateral reach, we achieve a wide work diagram, exclusive and unique in platforms mounted on 3,500kg vehicles.
All these features make it the ideal platform for all types of companies and professionals working at height, and it is also ideal for rental companies without a driver.