PIPELINE & GAS EXPO is THE B2B exhibition-conference, held every two years, entirely dedicated to the mid-stream sectors and the "oil & gas" distribution networks, but also the water ones. With its highly specialized exhibition formula, PGE is the ideal meeting point for companies that operate in the design, construction and maintenance of gas pipelines, oil pipelines and aqueducts, of gas distribution networks (both primary and secondary) and of water the related suppliers of plants, machinery, equipment, materials and software they need. PGE is therefore a qualified information update point also for public and private companies specialized in the management of distribution networks and related services.
Date: November 17-18-19, 2020
Stand place and location:
Socage has booked an exhibition area of ​​100 square meters and is precisely positioned in the outdoor area G4-H3.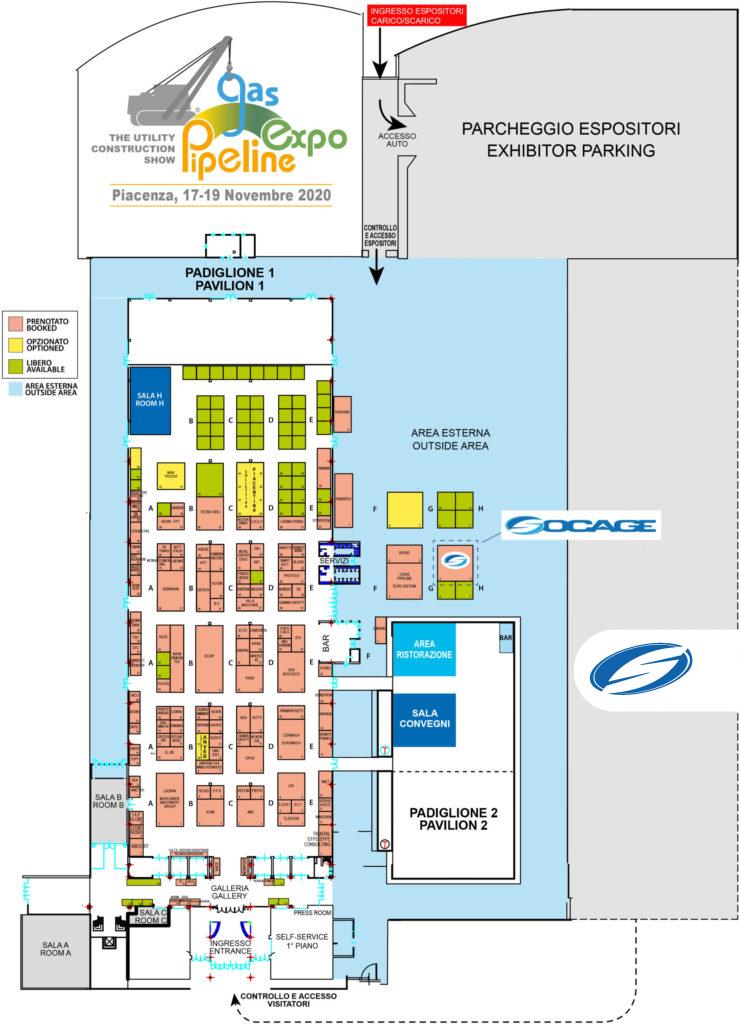 How to get
The Piacenza Expo exhibition center is located right in sight of the Piacenza Sud motorway exit, in a context of road, motorway and railway junctions in the center of northern Italy. Three airports (Milan Linate, Parma and Brescia) are within a few tens of kilometers, another five (Milan Malpensa, Verona, Bologna, Genoa and Turin) can be reached in just over an hour.
All this, combined with a state-of-the-art logistics and transport system, makes Piacenza a real crossroads for Europe and its new exhibition center a strategic meeting point for commercial operators and visitors, open to further developments.
Direction:
Piacenza Expo – Piacenza Exhibition Center
Via Tirotti 11, Fraz. Le Mose, 29100 Piacenza
Latitude 45 ° 02 '32' 'N – Longitude 09 ° 45' 06 " W.
Services Bus Times
Radio Piacenza Taxi (0523-591919)
A1
motorway, Piacenza Sud exit. A21 motorway, Piacenza Sud exit
www.autostrade.it
Railway: Piacenza station – Information tel. 848-888088,
www.fs-on-line.it
Airports: Milan Linate (60 km), Milan Malpensa (90 km), Parma (60 km), Brescia (80 km), Bergamo (110km), Verona (140 km), Genoa (150 km), Bologna (150 km) , Turin (170 km)